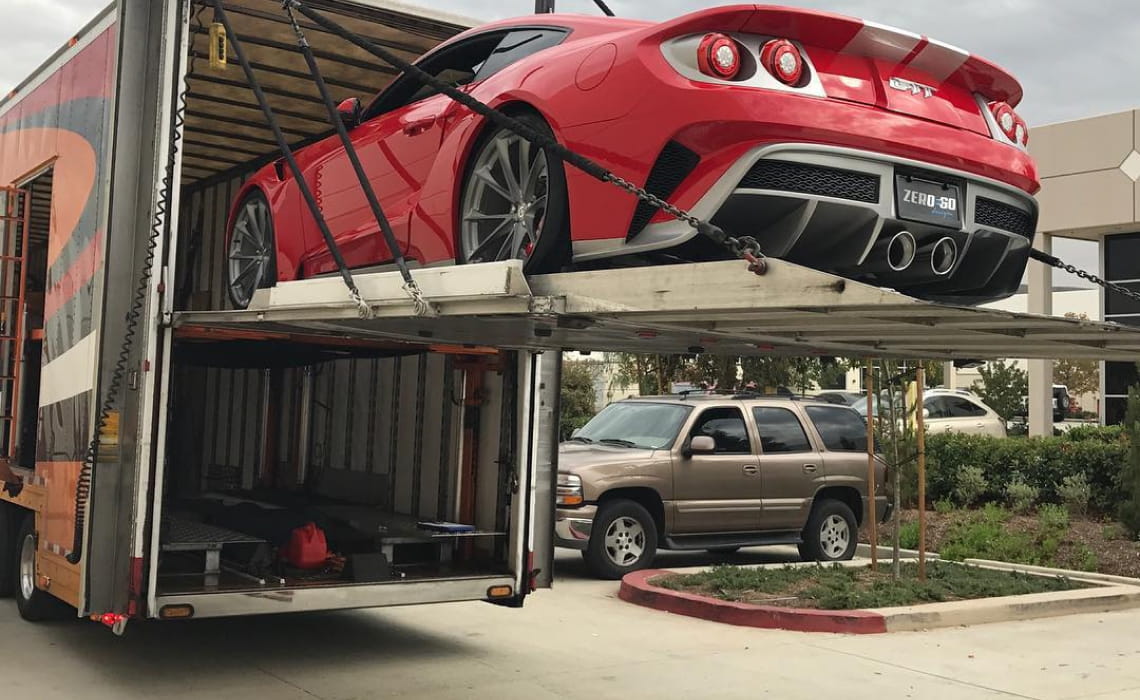 Hydraulic lift gates – the superior way to load vehicles
Hydraulic lift gates, like the ones equipped on Intercity Lines enclosed auto transport trailers, are the safest way to load a vehicle and act as an elevator for the car during loading and unloading. They lower completely flat on to the ground, so low clearance vehicles can easily drive on to the liftgate without the risk of scraping the undercarriage.
Lift gates also give the driver much more control over the car when loading into the car hauler. Instead of the driver being forced to gun it up two thin ramps like an open car carrier he can slowly drive it on to the liftgate and then off the liftgate. There are no inclines that require heightened acceleration, and the driver can get out, put wheel chocks behind the wheels, and slowly load the vehicle on to the trailer fully in control.
Hydraulic lift gates are more expensive than ramps, which may increase the price in exchange for the added safety of the car. Open transport trailers typically don't have hydraulic liftgates and are forced to use ramps to load and unload vehicles
The added cost for Lift Gates also shows how serious the company is about the auto transport business and ensuring they have top of the line equipment for car shipments.
Below, you can find the benefits and advantages of shipping with Kwik Trans Inc.
Top-Rated Auto Shipping
We have thousands of 5-star reviews for exceptional vehicle shipping services.
Nationwide Door-to-Door Service
We provide direct service to and from any residential or business location in the US.
Complete Vehicle Coverage
We offer the most comprehensive coverage options for complete peace of mind
No Up-Front Deposit Required
You don't pay a penny until the day your shipment is scheduled for pickup.
Fill out the request, and our staff will respond within the business hour!